1973 Porsche 914
I have enjoyed the very extensive though expensive restoration and modification process. More lessons learned. It is much cheaper to buy a restored or heavily modified car than to restore and heavily modify one. Particularly a Porsche which is an absolute rip-off parts-wise. $800US for an oil tank, $900US for a muffler! ... care to guess how much for the gear box rebuild parts I need? Arrrgh!
Porsche management regularly crows in PCA's magazine Panorama about how profitable they are - With mind-boggling arrogance they seem to forget that PCA's membership comprises customers, not shareholders.

Chassis
| | |
| --- | --- |
| | Dunlop SP8000 245/50-15 on 8" BBS wheels early 911 offset all 'round - no spacers required. |
| | 911SC front brakes and suspension, drilled rotors, all 4 wheels, rear hubs stock converted to 5-bolt. |
| | Adjustable Koni shocks front and rear |
| | 140 lb rear springs and stock 911 front torsion bars |
| | urethane bushings with grease zerks added |
| | Rear and adjustable front anti roll bars |
| | GT chassis stiffening kit and boxed rockers installed |
| | reinforcements added for 5-point harness |
| | 914-6 bulkhead engine mount installed. |
Engine
| | |
| --- | --- |
| | 2056cc balanced and blueprinted, |
| | 44mm X 40mm valves, |
| | ported, fly cut and decked for 9.5:1 CR, |
| | FAT Performance .465X290deg cam, |
| | 911 valve adjusters, heavy springs, rocker studs |
| | NPR 96mm pistons, stock stroke, |
| | Mallory Unilite Distributor, Hyfire VIal Ignition; |
| | high pressure oil releif pistons, blueprinted stock oil pump; |
| | SS heat exchangers, Triad Performance Exhaust; |
| | 911 clutch, Weber 42DCNF carbs, K&N filters. |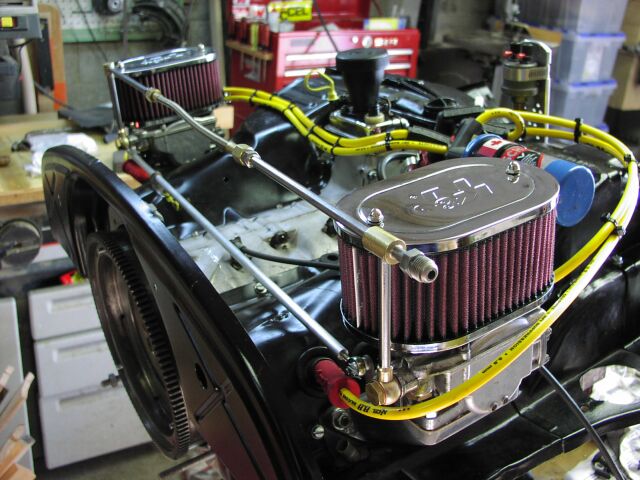 This one is finally done! I got a bit carried away, but may have guaranteed myself a place in the afterlife if the gatekeeper appreciates such things. This car was originally a 1973 1.7 litre 'appearance group' 914 that was in all respects tired, rusty, and worn. In retrospect It would have been much less expensive to start with some other compulsive lunatic's completed project. Live and learn.
Or not. Or not, as I do plan to convert this car to a 3.0 or 3.2 six cylinder some day.
That picture of the undercarriage is one of my favourites - looks like art to me, even with that beat up old 911 muffler. Yep, I've got it baaaaad! I've since replaced that muffler with a Triad.
Some day, you'll be able to click on each hyperlink to view photos and a description of the work involved, much of it done by Mike Galloway at Mike's 914s. Not today though, I've only created pages on the gearbox rebuild. I will try to completely document the restoration for the sake those individuals (and cars) who are suffering the same malady.
| | |
| --- | --- |
| | The car as purchased. |
| | exorcising the rust demons |
| | stiffening the chassis |
| | stripping to bare metal |
| | adding a rear sway-bar and reinforcing the front sway-bar. |
| | Fender flares and prep for paint |
| | new carbs |
| | rebuilding the engine |
| | rebuilding the gearbox |
| | Triad Exhaust |