The Sandy Point House
Oceanfront Summer Rental
Tasteful and clean, this recently renovated century home on 25 wooded acres with a panoramic view of beautiful sunsets, Shelburne Harbour and the Sandy Point lighthouse. Enjoy hiking trails and fishing on the property and a sand beach and park at the lighthouse just a three-minute walk away. The town of Shelburne's historic waterfront, museum complex, dining, shopping, and other amenities can be reached by bicycle or in minutes by car.
Location:
| | |
| --- | --- |
| | Sandy Point, Nova Scotia |
| | Nearest Town: Shelburne, 8 km |
| | Nearest Hospital: Roseway Hospital, 7 km |
Facilities
| | |
| --- | --- |
| | Completely renovated, this large, comfortable, family home accommodates up to eight in four bedrooms (queen, queen, four twin) plus a sofa-bed in the parlour. |
| | Two three-piece bathrooms |
| | eat-in harbour-view kitchen, |
| | harbour-view dining room |
| | sun porch. |
| | library/guest room, TV/living room, |
Appliances
| | |
| --- | --- |
| | Refrigerator, stove, washer, dryer, microwave, 4-slice toaster, Gas BBQ, electric kettle, coffee maker, stereo, CD, cassette, TV, VCR, telephone, fax, answering machine, etc. |
Other
| | |
| --- | --- |
| | Excellent well water. |
| | Linens, kitchenware, extensive library, games, puzzles, toys, etc. |
| | Hiking trails and fishing on property. |
| | Well situated for a variety of day trips. |
| | Amenities at Shelburne include public library, video rentals, movie theatre, excellent restaurants, take-out, groceries, liquor, bakery, crafts, museums and arts council on historic waterfront. |
| | Sea kayak lessons, boat excursions, hiking & walking trails, tennis, golf and more available locally. |
Rental Terms:
| | |
| --- | --- |
| | |
| | $300 per week deposit required to reserve. Balance due no later than sixty days prior to arrival. |
| | Payment by direct bank deposit preferred for simplicity. |
| | Occupancy Saturday to Saturday, Check out/in at 10:30AM/4:30PM. |
| | email for reservations and availability. |
Frequently Asked Questions
How is the house laid out?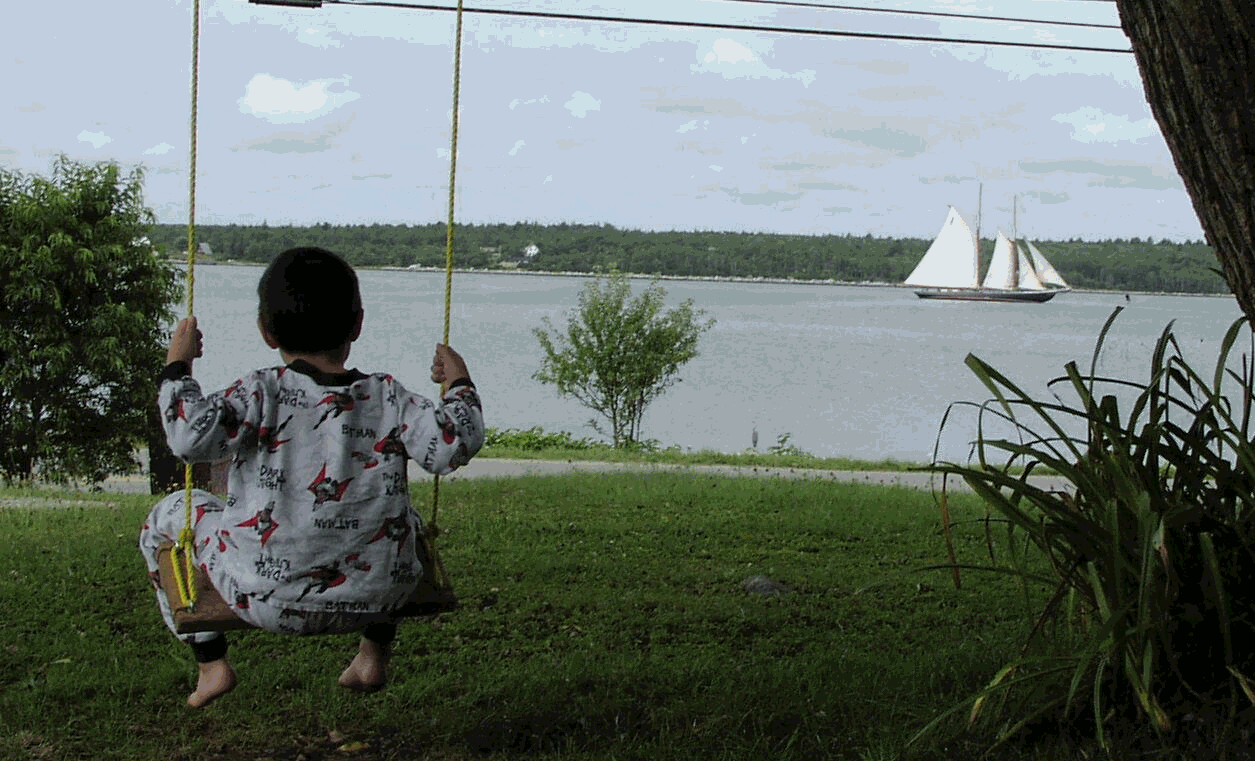 The Sandy Point House comfortably accommodates between two and eight guests. It provides personal space and a degree of solitude for individuals and intimacy for couples, but can concurrently accommodate rainy-day games or other activities. Like many older places, part of the Sandy Point House's charm is the way it grew with the families that called it home.

Upstairs, the house has four bedrooms and one bathroom. Downstairs has one bathroom, two living rooms, the dining room and kitchen. The latter two rooms look through the sun-porch to the harbour.

The recently-updated kitchen features a dining table and chairs and has been described by guests as ve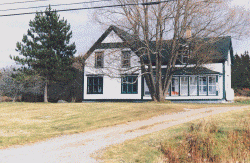 ry well equipped, with dinnerware, cookware, utensils, and of course a giant lobster pot and claw crackers! Appliances include a fridge and stove, coffee maker, toaster and microwave.
The washer and dryer are located in what we call the 'shed', which is attached to the house, and is accessible from the deck.
A sun porch, adjacent to the kitchen and dining room, provides a comfortable place for a romantic dinner, a quiet coffee, or just a spot to read, relax and watch the boats go by.
What is the general décor and condition of the house?
The house has been extensively renovated and decorated in 1999-2000, with the intention of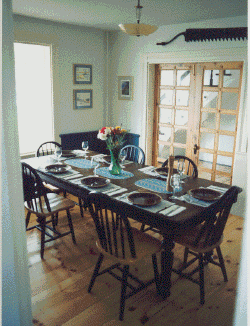 striking a balance between historic charm and modern convenience. As most of our guests are repeat visitors, we try to improve and update the house annually. It is clean and bright, and has been described as cheerful and welcoming. Most floors are the original wide pine planks, varnished in the downstairs hall, dining room and library, and painted elsewhere. There are antiques, wall-hung maps, Victorian paintings, art and maritime bric a brac throughout.
What are the sleeping accommodations?
There are four bedrooms upstairs. The larger of the adult bedrooms faces the harbour, and has a queen-sized brass bed, while the other faces the forest, and also has a queen. The kids' rooms (also suitable for adults) are in a separate 'wing' from the adult rooms, and you must walk through one room to enter the other. They each feature two twin beds and harbour views. The downstairs parlour has a double sofa-bed.
How is the house situated?
substantial front, side and back lawns for kids to play, and there is gravel parking for four cars. Overall the property is 25 acres in size, and is 180 feet wide. There are trails cut in the woods behind the house which connect to many miles of hiking trails. It is private, but not remote.
What is the property like?
The land in this area slopes gently up from the harbour, and is covered by a very dense natural forest of oak, spruce, tamarack, and other conifers. The other properties for miles along this shore are similar in size and configuration, providing a continuous forested 'back yard', which is a home for many kinds of wildlife, and is crisscrossed by an impromptu system of trails, which continues for miles. Well back through the forest, at the top is the hill is a small freshwater lake (very large pond?) called Magnum Lake. You may even find the blueberry patch!
Is the water good?
The water is excellent. While we have experienced no problems, we do ask that guests, particularly larger groups, respect the fact that we are on a well and septic system and use both conservatively.
Is there a phone?
Yes, a phone, a fax, and an answering machine. The telephone number is 902-875-1458. The phone is set up for local calls only, though long distance can be dialed collect or with a calling card.
What is there to do at the house?
Relax. There are hundreds of books, beautiful views and a peaceful environment, with morning mists, clean air and a laid-back pace. The Sandy Point beach is a short walk down the road, and one can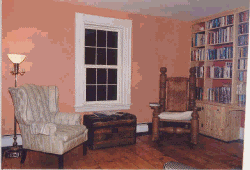 walk to the local wharf, fish, explore the forest, bicycle to Shelburne. Kids have space to play, and a growing collection of games, puzzles and toys for rainy days. There is a stereo system with CD and cassette, and a TV and VHS VCR.
What do I need to bring?
We provide linens, bath and hand towels, basic spices, and sufficient paper products to last till your first shopping trip. We suggest you pack slippers for inside and sturdy walking shoes or hiking boots for outside are a good idea. Rubber boots are a great idea for kids. Please bring your own beach towels and fishing gear. Some cassettes are kept at the house, but you should consider your own CDs or tapes, or be prepared to entertain yourselves by playing the antique pump organ.
Sobey's grocery store in Shelburne is closed on Sundays, so you may need to ensure that you bring enough food to last till Monday, though there are convenience stores and restaurants open in town. If you are coming from the direction of Halifax, especially late on a Saturday, it may make sense to provision at the very large and well-stocked 24 hour Sobey's at Hammond's Plains road and Hwy 103.
What is there to do in Shelburne?
Historic Shelburne is a charming, pictureque town with all the necessary amenities and lots do do, including kayak/bicycle rentals, arts and crafts sshops, a spa, several restaurants, museums, and a barrel factory at the historic waterfront at which the film 'the Scarlet Letter' was shot. There is a helpful tourist office on Dock Street in town.
On the Water
Harbour tours and private charters can be arranged at the town wharf or tourist office in Shelburne. The large public wharf in Shelburne is also worth a visit, with interesting cargo ships from around the world alongside coastguard vessels and local inshore and offshore fishing craft.
Fishing
Your kids can catch mackerel for dinner off the wharf, or you can charter a local boat for a half day: "…we did find one commercial fisherman to take us out fishing. His name is Chris Goodick, He took us out for half a day, returning with a supper of the freshest cod possible. His rates were very reasonable -- $200.00 for half a day. Considerably less than the deep-sea charters further up the coast…and he provided all of the fishing gear—remind your guests that it is line fishing not rods. ." S. Lowe, NJ.
Walking Tours
Al Keith can escort you on a two hour walk of the famous Historic District of Shelburne Nova Scotia which rivals any area of North America for its density of pre-eighteen hundred wooden buildings. Visits to two of the Waterfront museums are also included on the tour.
http://www.studio14.ns.ca/
Museum Complex
The Shelburne museum complex and historic waterfront are well worth a visit. Plan on a good part of a day to see it all, including a bite of lunch at Charlotte Lane, Shelburne Pastry, or the Sea Dog Saloon.
What is there to do in the region?
The Lighthouse Route

Nova Scotia's tourism ministry has created several scenic travelways within the province, one of which is called the Lighthouse Route. The Sandy Point House is situated on this route. This drive follows the old coast highway, which wends its way through the fishing villages that dot the South Shore. Check out

http://explore.gov.ns.ca/scenic_travelways/lighthouse/lighthus.asp and take the photo tour while you are there.

Museums

In addition to the museums in Shelburne, nearby Barrington features a lighthouse open for tours, and an old, water powered woolen mill. There is also a small museum in Cape Sable Island. The Yarmouth County Museum in Yarmouth is outstanding, and is worth at least a couple of hours visit. Also in Yarmouth is the Firefighters museum.

The Fisheries Museum of the Atlantic in Lunenburg is, in addition to being the home of the Bluenose II, one of the premier museums in Atlantic Canada, with exhibits for all ages.

Ocean Shore Natural Park

The Kejimkujik Seaside Adjunct National Park features undisturbed, natural seacoast where seals are often seen sunning themselves on the rocks. Off Hwy 103, take St. Catherine Road, which is past Port L'Hebert, between Port Joli and Port Mouton. (pronounced Mutoon) the exit is a dirt road, which does not have a number. Follow the road for 5.5km/3.5mi to a parking lot on the left side and the beginning of a hiking trail. The walk to the beach takes 35-45 minutes, bring water and a snack!

"Keji"

The Kejimkujik National Park is a great place to take a day trip canoeing, hiking or 'beaching' at a freshwater lake. For more information, visit

http://parkscanada.pch.gc.ca/parks/nova_scotia/kejimkujik_np/Kejimkujik_e.htm

Fresh Water Swimming at Welkum Park

A nice picnic spot too! Follow the Welshtown Road leaving Shelburne. From Hwy 103, it is about 8km. On your left you will see the park in the spruce trees. There are picnic tables, outhouses, and a lovely warm lake.

Ocean Beaches

The smaller beach at Sandy Point is the obvious choice for convenience, however there are many spectacular sand beaches in the area. A favourite to explore is Roseway beach, around 20km from Sandy Point. It is vast, with dunes, tidal marsh areas, and a brackish river and safe, warm tidal pools in the sand for the smallest of children. The relatively unknown beach at South West Port Mouton is also spectacular, with extensive dunes. The neighbouring town of Lockeport is well known for its large crescent-shaped beach, where sea kayaks and 'boogie-boards' can be rented. Near Barrington, try Sand Hills Beach. This is a provincial park with great beaches and shallow water, usually warm.

Try to get to any beach on a falling tide. Tide tables appear in the local paper, The Coast Guard.

Trout Fishing, Horseback Riding, and Pick-your-own

Jackson Lore operates a farm on the scenic Clyde River. He has an award winning managed forest with trails and river access. He also has three trout ponds, but you must bring your own gear. Jackson also offer pick-your own strawberries (July) and vegetables.

South Shore stables is 26km past Jackson Lore's farm. They have quarter horses which you can take on trail rides. Horses can also be hired at Sable River Stables. (Near hwy 103, Sable River.)

Jackson Lore 875-2102

Other Stuff

If you want lots of information prior to your departure, The 'Doers and Dreamers Guide' from the Provincial Ministry of Tourism is very well put together, and can be ordered from

http://explore.gov.ns.ca/rfi.htm. When you get there, pick up a copy of "The Coast Guard" and check at the tourism office in Shelburne. To learn more about the province, start at http://www.gov.ns.ca/.

How far is it to…?
| | |
| --- | --- |
| | Halifax Airport is 2.5 hrs away . |
| | Yarmouth is 45 minutes away. |
| | Roseway Hospital is 5 minutes away. |
| | Liverpool is 50 minutes away. |
Where can I…
| | |
| --- | --- |
| | …rent movies? Video Focus, 32 King Street, 875-4699 |
| | …order pizza for delivery? A-1 Piero Pizza, 31 King Street, 875-1222 |
| | …buy fresh or take-out seafood? Mr. Fish, 104 King Street, 875-3474 |
| | …fill a prescription? Lawton's Drugs, Shelburne Shopping Centre, 875-3007 |
| | …buy beach towels? Bargain Giant, Shelburne Shopping Centre, 875-1309 |
| | ...buy groceries locally? Sobeys, Shelburne Shopping Centre, King Street, 875-2458, or IGA on Water Street, 875-2775 |
| | …get good fresh bread? Shelburne Pastry, 151 Water St. 875-1168 |
| | …get beer and liquor? Nova Scotia Liquor Commission, King Street |
| | …find an ATM? CIBC on Water Street, 875-2388, Scotiabank at Shelburne Shopping Centre |
| | …see a movie? Capitol Theatre, John Street, 875-3400 Thurs.-Sat. |
Are there good restaurants nearby?
Yes. Shelburne has good restaurants (some very good) at all price levels. A few suggestions:
| | |
| --- | --- |
| | Charlotte Lane – Great ambiance, with cuisine that would please the most spoiled urbanite. Reservations highly recommended. Licensed. $$ 13 Charlotte Lane, 875-3314 |
| | The Quarterdeck – 40 minutes away, near Liverpool. Spectacular setting and excellent cuisine. Reservations highly recommended. Licensed. $$ |
| | Sophie's Diner – A must to visit for down home cookin'. Located in the Shelburne Mall, Sophie has taken over from her mother Claudia (retired woner of 'Claudia's' oddly enough) in providing the best chowder in Atlantic Canada (Doris has tried them all) and the best, tallest, lemon meringue pies (twice). $ |
| | Sea Dog Saloon – Good basic fare in a waterfront pub setting, try the fishcakes, or any of the favourites. $ Dock Street |
| | Shelburne Pastry – Bakery & restaurant. Reasonable prices, alternative to fried 'down home' fare. Made-to-order cakes & fresh baked goods. $ Water Street |
| | Scotia Lunch – Basic, reliable, diner. Good for kids. $ King Street |
| | Mr. Fish – Good take-out fried seafood, plus fresh seafood. $ King Street |